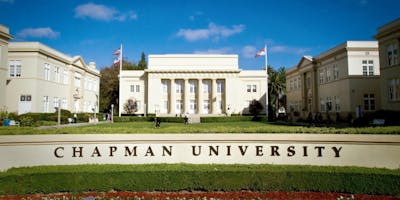 Register
The Southern California Innovative Users Group is the regional chapter of the Innovative Users Group. It is led by the Steering Committee who organizes the annual conference. Annual conferences include a general presentation by Innovative staff as well as smaller sessions / presentations made by SCIUG members on various Millennium/Sierra/Polaris related topics. The 2018 SCIUG Conference will be held at The Sandhu Conference Center at Chapman University.  This years' conference will…
Latest Event Updates
Registration for the 2018 SCIUG Meeting is now open.  Check the agenda page for developing details on programming.  We look forward to seeing you!
The Southern California Innovative Users Group (SCIUG) conference will gather on Tuesday, October 23, 2018, at Chapman University, and the Steering Committee is eagerly seeking program content from you.
Proposal submissions will be accepted until August 15th. Presenters will be notified of proposal acceptance beginning September 5th.
Please use this form to submit your proposal.
We hope to see you in October 2018 as a presenter at SCIUG!
The 2018 SCIUG Conference will take place on Tuesday, October 23 at Chapman University in Orange, California.
Check back for forthcoming information.
Thanks for registering for the 2017 Southern California Innovative Users Group (SCIUG) that was scheduled for October 10th at Chapman University and cancelled because of the wildfire in Orange County.  The SCIUG steering committee regrets that we are unable to re-schedule this year's conference, but we look forward to a robust and informative conference at Chapman in 2018.
At this time, all registration funds have been refunded. If you have any questions, please contact socaliug@gmail.com.
Many thanks again and please join us in 2018!
Laura Turner, Chair
2017 SCIUG Steering Committee
The SCIUG Steering committee is still investigating on next steps regarding the conference that was cancelled due to fire activity in the area. We will have more information later this week. We appreciate your patience as we get this worked out.
URGENT:  The SCIUG steering committee regrets to announce that fire activity near Chapman University in Orange County is creating health hazards in the area, and the conditions are expected to continue into tomorrow morning.  As a result, we are post-poning tomorrow's SCIUG conference for another day.  Details on the new date will be available soon.  Please note that ALL SCIUG ACTIVITY TOMORROW AT CHAPMAN IS CANCELLED.
Please look for an email later this week or early next week with information about a new date.
The SCIUG steering committee apologizes for this inconvenience.
Registration for the 2017 SCIUG meeting at Chapman University is now closed.  We look forward to seeing registered attendees on Tuesday, October 10.